Interviewer:
Tell me the details of SPRO tcode.
SPRO is the transaction for IMPLEMENTATION GUIDE for most of the SAP applications. All the customizations that an application needs and all the configurations that an application needs are given here. Also you can find most frequently used functionalities of an application here under respective application nodes.
If you want your own entry there then you need to use SIMGH transaction for that.
SPRO ---> SAP PROJECT REFERENCE OBJECT
SPRO is taken from German text : Projektbearbeitung
In English : treatment of projects
So its SAP PROjektbearbeitung : SPRO
Remember it is a German software translated to English.
SPRO stands for SAP Project Reference Object. It is used to configure the setting as per your client requirement by using the standard setting present in the system. This where you can do all the SAP configuration work.

How to download the tree structure as it is being displayed in SPRO (IMG) with the technical IMG activity ID? The print option is being grey off.
To print SPRO IMG as display, you need to follow these steps:
SPRO
- Click Setting
-- User-Specific
Under General (Customizing Projects)
- Un-Tick All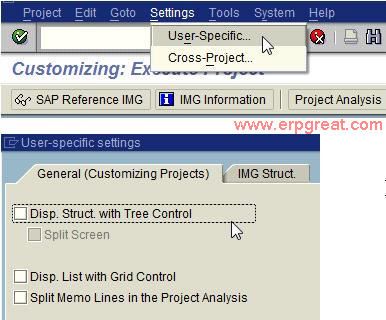 Now, if you go into SPRO -> SAP Reference IMG, the Print button is No Longer in Grey.
You can then Print or Download it.