Inter Company And Without Inter Company With Same Vendor
How to do purchasing inter company and without inter company with the same vendor?
Normally when we create PO with inter company we are getting automatically Goods issuee also.
However some time we need to create normal purchase order without goods issue. Is there any customization is required?
To the best of my knowledge, is that it is impossible. Once the a vendor is assigned to a plant, the PO is assumed to be a STO.
The only way to buy sometimes as STO and sometimes as from external vendor is to have two different vendor numbers for the same vendor. You can group their invoices (MIRO) automatically to the same vendor account using the "Head office" field in the vendor master.
Please go through the following path:
XK02 -> Enter Vendor code, company code and purchase organization -> Select the Accounting Info Check box -> Press Enter -> In the screen you can find the Head office field below the Recon. account field.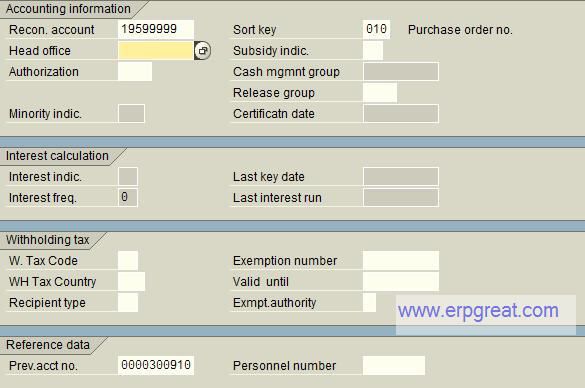 OR
Go to " OMSX "
Here select "Vendor accounting" and click on Details button.
Now click on "Account management " selection group.
Here you can make the indicator for Head office filed as Mandatory/Optional if it is in Suppress mode.
Get help for your SAP MM problems
SAP MM Forums - Do you have a SAP MM Question?
SAP MM Books
SAP Material Management Certification, Interview and Configuration Reference Books
SAP Material Management Tips
SAP MM Configuration Tips and Materials Management Discussion Forum
Best regards,
SAP Basis, ABAP Programming and Other IMG Stuff
http://www.erpgreat.com
All the site contents are Copyright © www.erpgreat.com and the content authors. All rights reserved.
All product names are trademarks of their respective companies. The site www.erpgreat.com is in no way affiliated with SAP AG.
Every effort is made to ensure the content integrity. Information used on this site is at your own risk.
The content on this site may not be reproduced or redistributed without the express written permission of
www.erpgreat.com or the content authors.