Explain the steps in serial number profile from SAP MM point of view.
Serial Number: If you want to distinguish each Item (generally unit of measure will be EA, PC.. etc.) in the inventory, then serial number will be used.
Advantage: we can track the movements of each serial number of material.
Serial Number: Separate serial number profile need to be created and placed at work scheduling view or plant data storage view of material master.
Configuration settings
You have to configure the serial number profile and assign it to Material master.
In the configuration profile of serial number, you have to check the check box for serial number required for processing and set the Goods movement transaction where you want to automatically create the serial number or create the serial number for the material using Tcode IQ01.
SPRO IMG Path:
Sales and Distribution -> Basic Functions -> Serial Numbers -> Determine Serial Number Profiles
-> Select your Serial Number Profile

During Serial Number profile in Serializing Procedure you have to maintained the following settings:
MMSL - Maintain goods receipt and issue doc. 03 02
SDLS - Maintain delivery 03 02
SDRE - Maintain returns delivery 03 02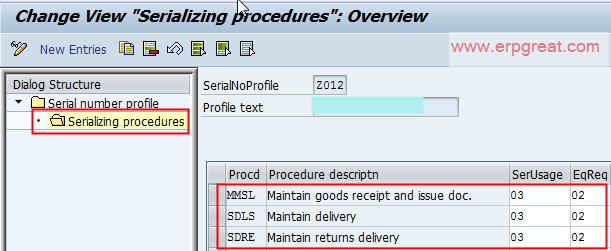 In Serialization profile, there is an checkbox for (Existing required) uncheck that check box & then test your transaction. You will get an button "Create new in serial number" in selection screen during goods receipts...Create new serial number for material there & then make goods receipt.
Assign Serial Number to existing stocks
IQ02 - Edit - Special Serial Number Functions
- Change to - From Stock
- Stock Type - '01'
- Plant - 'XXXX'
- Storage Location 'XXXX'
- Save
Edit - Special Serial Number Functions
- Change back - To Stock