Permit with The Controls of Order Release Refuse
Problem :
Client requirement is not to release order if Planned cost exceeds Rs.15000. I attached one permit for this. But system is asking only for Permit issue. If I issue this permit then system releases the order. System is not checking the Planned cost value at all.
Solution:
You can make use of permit, create a permit with the controls of order release refuse if the permit is not issued.
Create characterisic as the name specified in the IMG, in the characteristic addtional tab specify the table as CSEVPERMIT and the field name as PKOSTEN, assign the characteristic to the permit and specify the values for the class as say > Rs 15000.
Then while creating the order if the plan cost is higher than Rs15000, then system will not release the order unless you have specified the permit to the order.
Additional, in your permit, put 2 in Order release :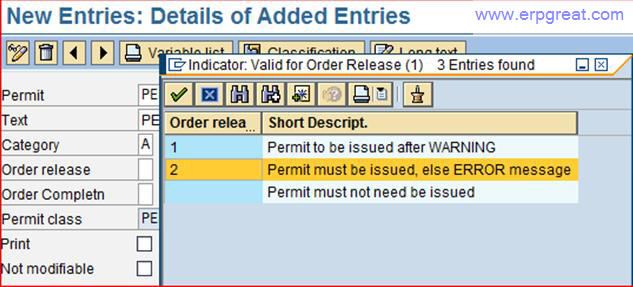 Have a SAP PM Problems?
SAP PM Forum - Do you have a SAP PM Question?
SAP Plant Maintenance Books
SAP PM Books - Certification, Interview Questions and Configuration
SAP PM
SAP PM Tips and Plant Maintenance Discussion Forum
Best regards,
SAP Basis, ABAP Programming and Other IMG Stuff
http://www.erpgreat.com
All the site contents are Copyright © www.erpgreat.com and the content authors. All rights reserved.
All product names are trademarks of their respective companies. The site www.erpgreat.com is in no way affiliated with SAP AG.
Every effort is made to ensure the content integrity. Information used on this site is at your own risk.
The content on this site may not be reproduced or redistributed without the express written permission of
www.erpgreat.com or the content authors.