Work Clearance Management Process
Explain the steps to be done in SAP system for tagging and what are the prerequisties.
By: Haris Khan / Graham Johnston
Tagging process is to tag the equipment or functional location (on/ off) or (open/ closed).
Following is the process of WCM:
Create maintenance order & activate WCM.
Create and prepare Work Clearance Application (WCA).
Create and prepare Work Clearance Documents (WCD).
Approve Work Clearance Application.
Approve all the permits required for WCD for tagging.
Tag the equipments, object in WCD.
Carry out the maintenance work, after "Labour Release " in the maintenance order .
After work completion, set the order status to "WOCO" – Work Completed.
Request for un-tagging , by approving permits required for untagging in WCD.
Un-tag the equipments, objects.
Close the WCD.
Close the WCA.
My client has a requirement that after they print WCA document they need to print WCD document. For that I have to prepare a functional specs for WCD but I am geting only Structures for WCD, how do I find the right table?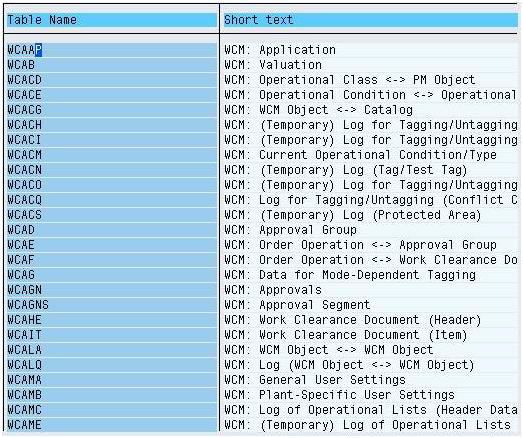 Have a SAP PM Problems?
SAP PM Forum - Do you have a SAP PM Question?
SAP Plant Maintenance Books
SAP PM Books - Certification, Interview Questions and Configuration
SAP PM
SAP PM Tips and Plant Maintenance Discussion Forum
Best regards,
SAP Basis, ABAP Programming and Other IMG Stuff
http://www.erpgreat.com
All the site contents are Copyright © www.erpgreat.com and the content authors. All rights reserved.
All product names are trademarks of their respective companies. The site www.erpgreat.com is in no way affiliated with SAP AG.
Every effort is made to ensure the content integrity. Information used on this site is at your own risk.
The content on this site may not be reproduced or redistributed without the express written permission of
www.erpgreat.com or the content authors.