Explain about BOM.
The following is explain using an example company name KBPLT.
BILL OF MATERIAL
AS-IS AT KBPLT
Every component either a finish good or semi-finish goods will have complex BOM.
---
TO-BE / SAP-PROCESS AT KBPLT
For KBPLT it would be a Multi-Level BOM structure.
1. SCOPE OF THE DOCUMENT
The Scope of the document is restricted to Creation, Change and Display of Bill of materials for Finished Materials, Semi finished Materials.
2. GENERAL EXPLANATION
BOM is formally structure lists of components that makes of product or assembly.
The lists would contain object no. of each component, together with the quantity and unit of measure.
EXPLANATIONS FUNCTIONS AND EVENTS
BUSINESS PROCESS DETAILS
BOM's are used in their different forms in various situations where a finished product is produced from several components parts or materials. The data stored in the Bill of materials serves as basis for production planning activities such as
In material requirements planning (MRP) Bills of Material are used to calculate procurement or in-house production quantities for materials.
In Production orders Bills of material are used for planning the issue of materials.
During Production order confirmation, the BOM is used to update finished goods stock of the parent material and back flush actual consumption of component material.
Stores personnel use the BOM goods issue of components for in-house or sub-contracting applications.
Product costing uses the BOM to calculate the costs of materials required for a specific product.
BOM STRUCTURE
BOM Structures are of two types:-
1) Single-Level BOM structure.
2) Multi-Level BOM structure.
BOM Structure for KBPLT:-
For KBPLT it would be a Multi-Level BOM structure:-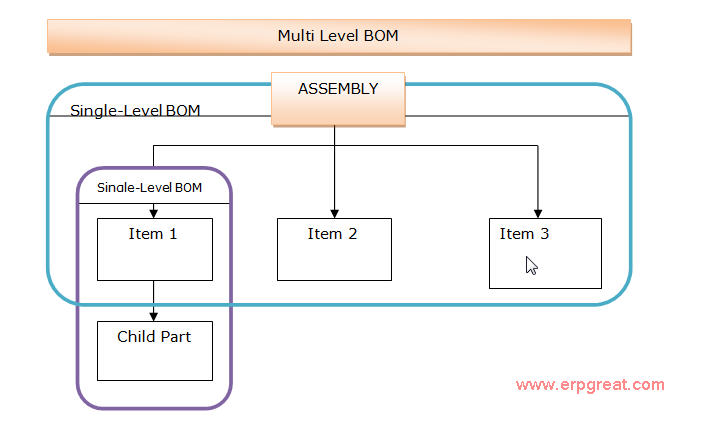 In KBPLT, BOM is having only one usage, i.e. it would be production BOM.
Every component either a Finished Good or a Semi Finished Good will have a BOM.
BOM will have each component that goes into product and for which production and planning dept. wants to plan.
MRP will consider stock of raw material while net requirement calculation and MRP controller decide whether the raw material can procure from outside or to crate purchase order for the same.
REPORTING CONSIDERATIONS
CS11 – Explode BOM Level by Level
CS12 - Explode Multi level BOM
CS13 – Summarized Bill of Material
LIST OF BUSINESS PROCESS PROCEDURES (BPP)
CS01 – Create Bill of Material
CS02 – Change Bill of Material
CS03 – Display Bill of Material
CS20 – Mass Changes