Any difference between Network Types and Order Types for Networks?
A generalized idea on Network Types and Order Types.
Network Types are a kind of Order types. In SAP there are several kind of order categories for ex. Production order, Maintenance Order, Internal Order, Network Order etc.
Network Order is also a kind of Order category based on its type of Header Assigned and Activity account assigned etc.
All the above said orders represent a specific business transaction i.e. CO01 / CO11N, IW31, KO01, OPSC respectively and the characteristics of these orders are determined by their order categories. Therefore, all these order types are relevant for specific applications.
The Order Type also describes how the order is controlled as they have their own status management, field controls etc.

Where to configure Network types?
To set the network types in SAP PS, you need to classify the orders with regard to their distinguishing features (for example, order category, number range, and so on).
Path to configure network types:
IMG -> Project System -> Structures -> Operative Structures -> Network -> Settings for Networks -> Maintain network types

Explain Network Types in SAP.
In the system, the network type contains information for controlling and managing networks. The network is a special form of the work order which has a structure in common with production, maintenance and inspection orders. Every network you create must have a network type allocated to it.
The network types in SAP PS determines:
the order category
the CO (controlling) partner update
With the indicator, you specify whether a summary record should be written per network if a CO partner object (for example, cost center) is settled with a network of this type.
whether the network is used for planning and does not add to the assigned values
residence times 1 and 2 for the archival and deletion of networks
a default value for the settlement profile
a default value for a status profile, if you want to use the user status in status management
allocation of the network type to a number range

Maintain Network Types in SAP PS

Double click to get the details screen.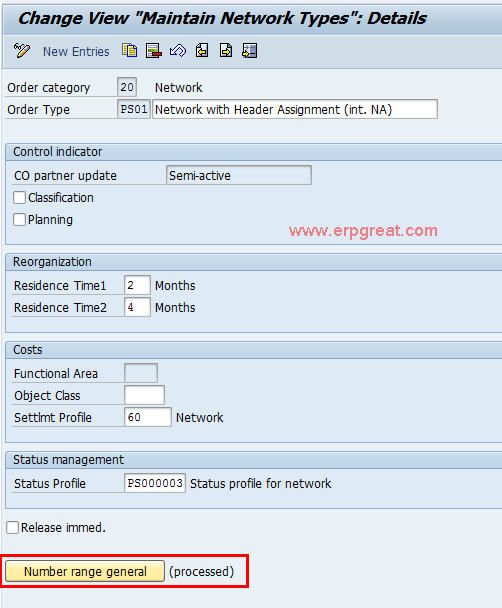 Please note that you have to allocate a number range to every network type.