Defining attributes is for you to define up to ten attributes for categorizing a customer.
To define the description for the attribute "mnemonically", you must make relevant changes in the Data Dictionary. This "mnemonic" description is then displayed when you maintain the attribute in the customer master record.
Steps:
1. For each of the ten attributes, enter an alphanumeric key of up to three characters and a description.
2. Make sure that you enter the key for this attribute in the additional data of the customer master records.
SPRO IMG
Logistics General
-- Business Partner
--- Customers
---- Control
----- Define Attributes
Customer Master Screen
XD02 / XD03
General data --> Extra --> Additional Data --> Attribute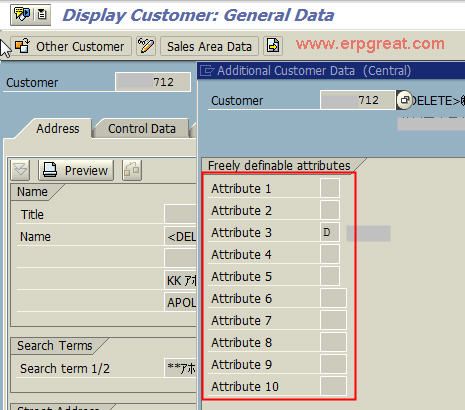 Notes:
You can make direct change using SM30 with these view tables.
Table View Name Short text
V_TVK1 Customer Attribute 1
V_TVK2 Customer Attribute 2
V_TVK3 Customer Attribute 3
V_TVK4 Customer Attribute 4
V_TVK5 Customer Attribute 5
V_TVK6 Customer Attribute 6
V_TVK7 Customer Attribute 7
V_TVK8 Customer Attribute 8
V_TVK9 Customer Attribute 9
V_TVK0 Customer Attribute 10